Salesforce Cloud Marketing showed how to create a personalized email in its tutorial video. Beyond simple personalization, the video shows how to create content based on the user's interaction history. This increases the likelihood that the customer will interact with the content sent, which can lead to further purchases of the product.
Similar automation-class solutions are offered by other vendors such as Adobe Marketo Engage, Autopilot, GetResponses, Salesmanago and User.com. More advanced e-commerce solutions such as Synerise have also been developed to enhance automation capabilities based on user behavior pattern recognition. The latest trend is to add a customer data platform to the toolkit - more advanced user tagging - Segment, Blueshift or Tealium. Vendors are defining and adding more intelligence behind email and SMS delivery every year.
Why companies are getting into marketing automation:
planned campaigns are ineffective. Depending on the relationship between the brand and the customer, cold (out-of-context) email open rates are no more than 10-15% and CTR is less than 1%.
emails openning degradate every year. More companies uses email marketing. In response, some marketers can choose the "woodpecker" strategy to send repeated messages to these customers. They need to automate the process to complete repetitive tasks along the timeline.
to achieve better CTR (engagement ratio), marketers create more progress in the customer journey or in other words - multichannel communication paths. For example, when the user clicks on the link in the email, the system should perform the next action accordingly. Customer Journey sounds difficult, but in digital reality most of them are quite easy to create and manage.
marketers struggle with customer targeting. Instead of using declarative formulas, they rely on behavioral tagging, like Facebook does. When someone clicks on a link, we tag the user based on the content and send them more relevant content next time. That, in turn, increases the chance of reaching the right people with the right content.
email personalization is not just about adding first and last names. There are promotional emails where we have 3 products to choose from to promote. For each email, the system selects the one that has the best chance of being clicked.
marketers understand the power of context in communication. If a customer has searched for products on the website, the marketer uses that information to send an email or ad about those products "because you were interested".
This all sounds great, but these elements lead to the same actions, just a little better automated. We send emails to overflowing inboxes. Maybe a little better, but still the good old emails that replace printed materials clogging up your mailbox.
Pharmaceutical companies are having a hard time replacing sales reps with automation. The main reason is the lack of reach and effectiveness over a long period of time. Multichannel is a great addition, but humans are still much more effective. Everyone in B2B knows this. CRM is necessary to support the sales rep, but it cannot replace the relationship, context, and perception of value that the sales rep provides to HCPs.
In pharmaceutical companies, establishing a connection between physicians' online activities and reps' visits can run into some issues.
First, some medical publishers want to protect the privacy of their readers, unlike Facebook or Google for third parties. In this way, they remain relevant to the pharmaceutical business. Second, reps do not necessarily report what's happening in real time, so they create potential problems when automation uses them as a trigger context. Finally, physicians are used to having a relationship with reps, whereas automation replaces that relationship and aims to replace reps with remote call center support departments.
Highp took a different approach. First, we focused on both the agent and the HCP and their relationship. Highp is not about replacing the sales force, but expanding and enhancing their digital reach and engagement. We have put together a package of services in a one platform that allows to launch campaigns quickly with an efficiency of up to 50-80% CTR. Creating a campaign takes minutes, not days, and running a campaign takes seconds. We can start maximizing HCP engagement in less than 4 weeks.
Highp includes the following modules:
- Highp visual creator helps composing messages. This module allows you to create a high quality message that is automatically personalized for each recipient without knowing anything about IT. Even if our client outsources the resources of IT, with Highp it is not necessary and much cheaper.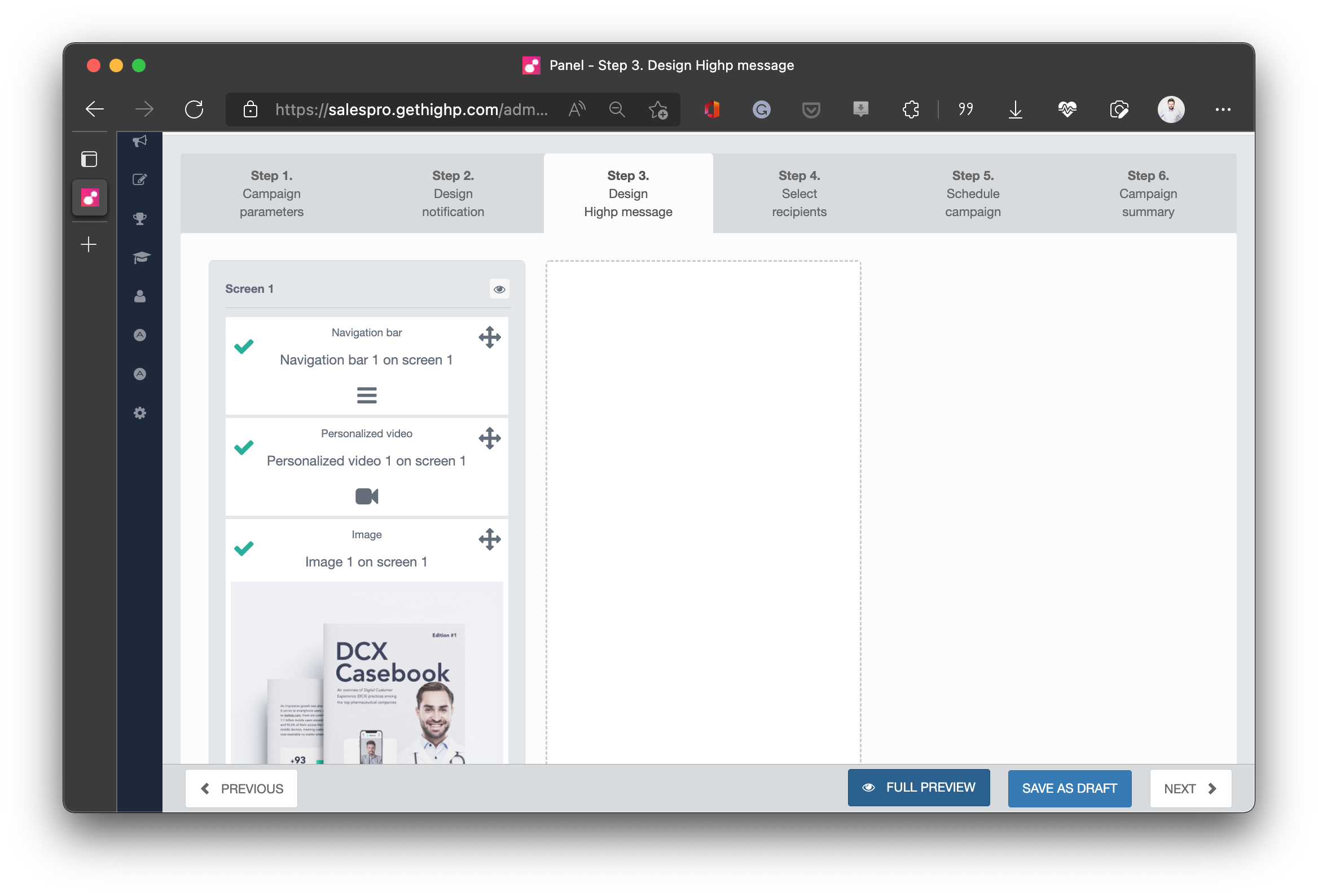 - Highp presentation can be easily create directly in Micosoft PowerPoint, add navigation paths to slides and full-screen video slides, and add expert video commentary to each slide.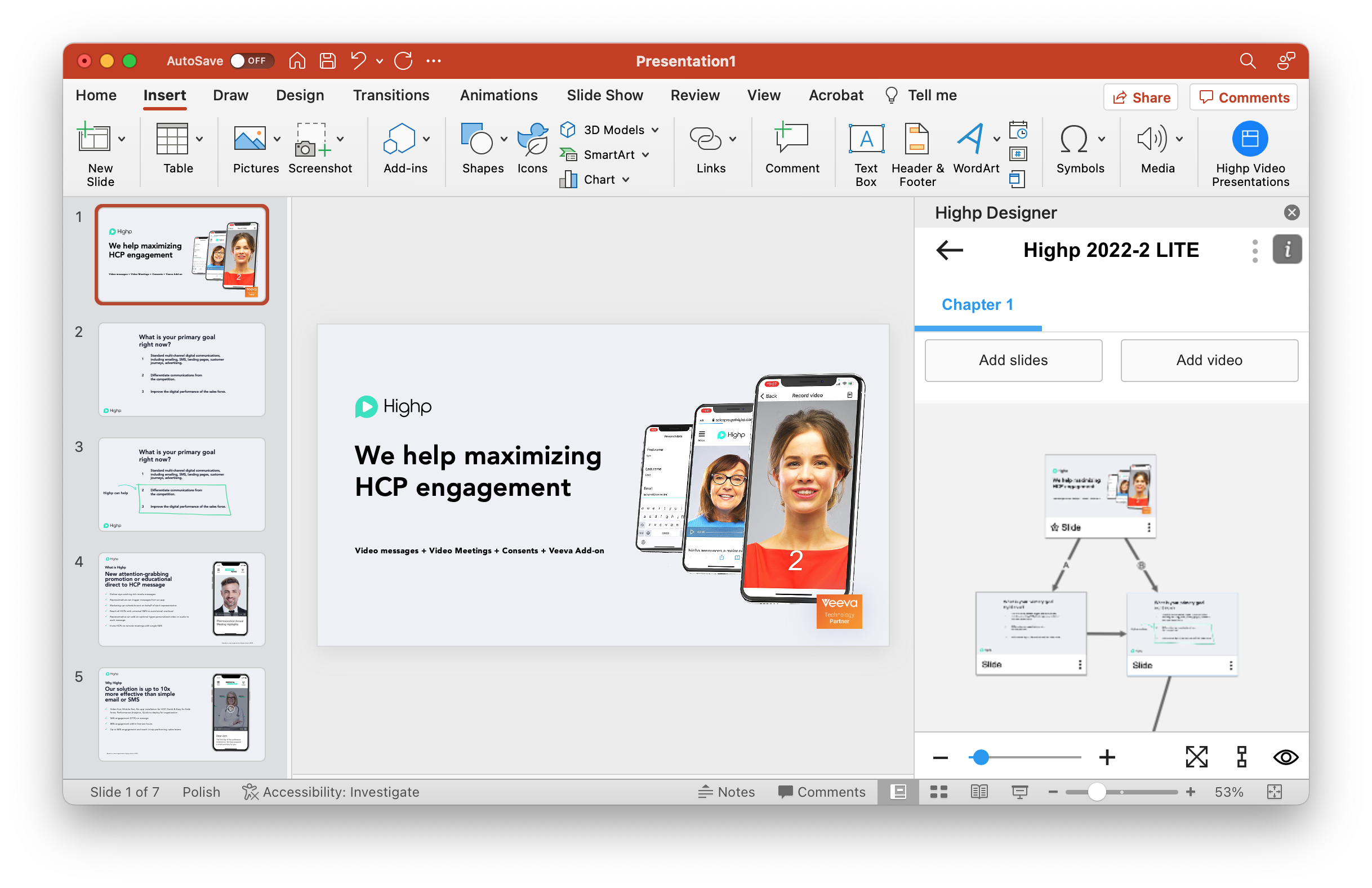 - Highp customer journey builder, lets you visually create logical paths of activities and add required logic. You do not need any additional integration with 3rd party platforms to create and run sophisticated services yourself.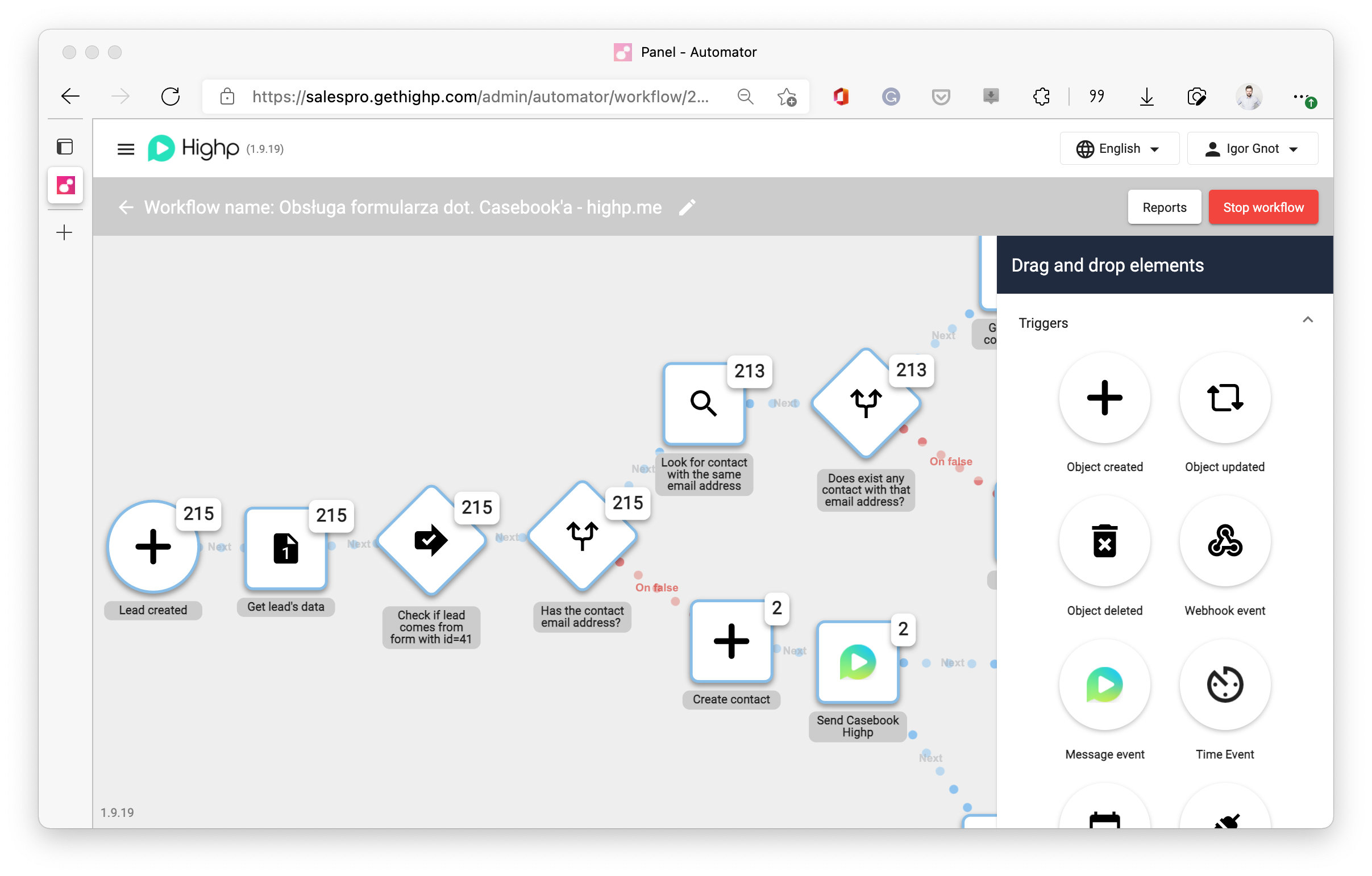 Creating a Customer Journey in Highp is much easier than on other platforms. All HCP activities within a message and presentation create events that you can use in Customer Journeys. No code configuration. No third-party cookies or analytics. Your Customer Journey can respond to the HCP's response to a survey, the start or end of a video, the download of a PDF, and more. In response, you can send or schedule another Highp message, target other platforms, or send an email notification to the rep. It's not as powerful as other dedicated automation systems, but thanks to its simplification and use of the world-class Apache Kafka engine, Highp can effortlessly handle millions of events and messages.
- Highp forms help to obtain consents and update customer database without direct access to CRM.
- Unlike other platforms, Highp offers out-of-the-box iPhone and iPad applications such as Highp Messages, Highp Presentations and Highp Insights. Agents can use all features on both small and large screens, making the application very flexible. Depending on the usage scenario of the platform, customers can choose one or more applications. All applications cooperate with each other and complement each other's functionality.
- Highp message is a new format of the endpoint, merging email, SMS and web. In Highp, the SMS is just the invitation, while the full rich media content is contained in a unique personalized web message that can be accessed by the owner of the unique link in the SMS.
Highp offers all these built-in features for free - Automation, Creators or Presentation Builder are always included. This makes Highp a very attractive option on the market. This is the perfect model for companies that want to be successful quickly.
The data from Highp can easily be passed to CRM to be included in the analytics model, or to another specialized analytics tool like PowerBI or Salesforce Tableau.